Ajit S. Dutta, a bright, energetic and versatile dance instructor and choreographer, began his career at a young age by winning the "All-India Dance Championships" in 1989. Born March 7, 1975, Ajit's artistic inclination led him to pursue a career in his passion : dance!
He enjoys choreographing for television, film, music videos, as well as a wide array of events, shows and elite weddings. As a teacher, Ajit imparts various forms of dance to students of all walks of life in his classes and workshops, and through corporate training to the staff of leading multinational companies. His company, "Body Dynamics—Dance and Fitness" has a wide range of courses to suit a variety of interests.
Ajit specializes in Club Dancing (Salsa, Meringue, Bachata etc.), Latin American Dancing (Rumba, Cha Cha, Samba etc.) and Ballroom Dancing (Waltz, Foxtrot, Tango etc.)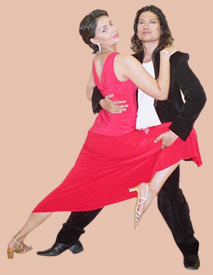 He also has a special flair for Bollywood Dance, and loves to portray Indian culture and heritage through folk dances such as Rajasthani Ghoomar, Gujarati Raas Garba, Assamese Bihu and Punjabi Bhangra. But when he's personally practising, you'll often find him doing Jazz, Hip-hop, Funk and B-Boying!
Ajit's wife, Ruby, shares his interest in dance, fitness and yoga. Both Ajit and Ruby are initiated disciples of Sri Sri Paramahansa Yogananda, author of "Autobiography of a Yogi". They reverently offer all works unto the feet of their Divine Gurudeva.